Our first arrival who we have dubbed "Velvet" is a stunning near black filly out of Mistic Storm Spirit and by The Trailblazer. Can't afford a warmblood? Then take a closer look at this BIG girl. She is currently standing 14.3 hh at 15 months old! She will mature to 16+ hh and has a wonderful sane disposition for easy handling. She has sclera, mottled skin and is roaning big time...she will have color :) This lovely lady has what it takes to put you in the ribbons. Asking $2,500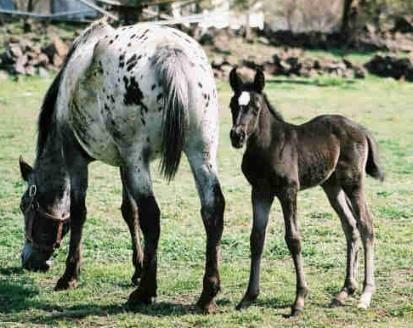 Look at her go!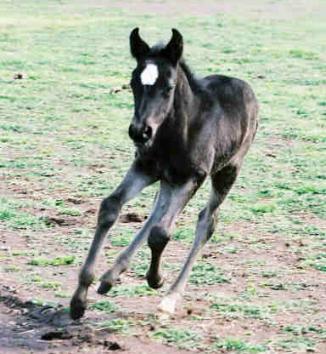 $2500
Closeup of mottling and roaning
Pictured on 7-4-04
TGF Mistical Favors
Pictured at ten days old
Last but certainly not least, we have the pleasure to introduce: JBC Shadow Dancer! Shadow was a late baby, but is making up for lost time quick. This absolutely stunning colt is exceptionally well put together. He has awesome bone and with his size and movement, he is sure to excel. Sired by 16 hh black and white leopard WAR Teton Shadow and out of JBC Cloud Princess, Shadow is 97% FPD! He will make an awesome herd sire and superior sport or performance horse. Asking $2500.
You can see how friendly he is :-)
$2500
JBC Shadow Dancer at 10 months
$2500

Mistic Blazn Destiny at 16 months is 14.3 hh!
Make an offer!
TGF Mistical Favors is our most recent addition. This amazing colt is linebred double Banks Top Favorite (Superior Halter, Superior Western Pleasure, ApHCC Outstanding Member of Breed Award) by our Banks Top Favorite son, Mistic Noble Favorit and out of our Banks Top Favorite daughter, Mistic Favrit Cheeta. he is an outstanding example of linebreeding at it's best and is destined to be our next herd sire. He definitely takes after his grandpa (pictured on our home page) and has athletic ability to burn. He was doing sliding stops, roll backs and flying lead changes at a week old. Not to mention we expect him to be a color producer as well. Keep your eyes on this boy, he has the look of eagles and is going to FLY :)
TGF Mistical Favors
Looks more like his grandsire every day :D
JBC Shadow Dancer
Picture at 10 days
Wow look at that presence!
$2500