Born on April 1, 2003 Mistic Comanche Spirit is a black near leopard stud colt. This boy is going to be big. Should mature to 15.2 hh +. He is very straight with a gorgeous dishy head and a personality to die for. Sired by Rainbows Dreamweaver and out of Mistic Storm Spirit, he is 97% FPD and out of leopard x leopard breeding. With well known names like Mansfield Comanche, Red Eagle and the Ghost Wind horses many times in his pedigree, he is an outstanding example of what strong appaloosa genetics can produce. If you are looking for a stallion prospect or just an awesome colored gelding, this is the one! Asking $3000. SOLD!
Mistic Comanche Spirit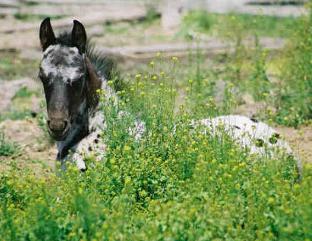 Aren't I cute?
Mistic Comanche Spirit at 4 days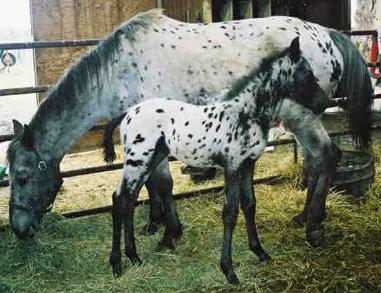 $3000
MisticRedCloudSrpriz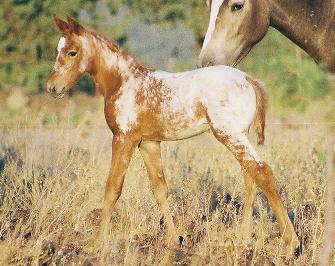 $3000
MisticRedCloudSrpriz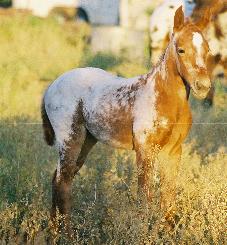 $3000
BearPaws MisticDream is an outstanding solid near black filly with characteristics born on June 1st. Like the rest of her siblings, she has an awesome head, great hip and moves like a dream. Out of Oaks Mystic Hy Bear, a double Bear Paw bred mare, and by Rainbows Dreamweaver, she is 100% FPD and has many famous names behind her. She should mature to 15 hh. Asking price is $2500. SOLD!
BearPaws MisticDream at 6 weeks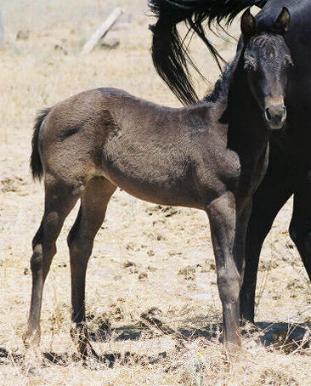 $2500