Mistic Bright Spirit showed up on Saturday May 26th. Our first foal in 2 years and our one and only this year, he was well worth the wait! Out of a Storm Cloud F great granddaughter, black and white leopard Mistic Storm Spirit and by 16.1 tri leopard shuffler Equally Bright, this awesome colt combines the bloodlines of Mansfield Comanche, Red Eagle, Arab Toshwirah Alkar, CRHA, Sundance 500 and Bright Eyes Brother to come out at 93% FPD eligible.
He should mature to 15.2 or taller. Is floating around his pen already, but we haven't had a chance to see if he shuffles yet (but he probably does) He is fabulously friendly and will be for sale. Asking $3500.
Pictured at 2 days old
For sale: $3500
Mistic Bright Spirit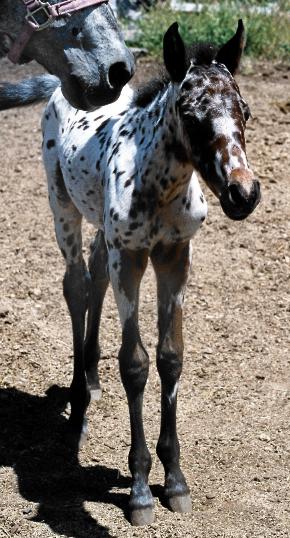 Gorgeous tri colored leopard
For sale: $3500
What a sweetheart!